In the meandering lanes and alleyways off the main square in Grasse lies 'Au Comptoir' a treasure just waiting to be found!
From the best selection of local wines, beers and champagnes to delicious sharing plates and desserts, Au Comptoir is truly one of my favourite places to enjoy a drink with friends. Run by attentive and dynamic husband and wife team Sylvain and Nabila, it's everything a wine bar should be: trendy yet unpretentious, intimate and relaxed. You can choose to sit inside its cool surrounds or watch the world go by on the unique outdoor seating. Then of course there's the wide range of local offerings…
Whether you're looking for a cool refreshing beer from the latest local up-and-coming micro brewery, an organic rose, a velvety red or even champagne, Au Comptoir has something to satisfy even the most discerning of palates. There are 25 wines sold by the glass and over 200 by the bottle. And in case you just can't decide, Sylvain is always on hand to help! He is a truly fantastic sommelier, whose deep knowledge, passion and desire to constantly seek out the best will help you choose a truly memorable drink.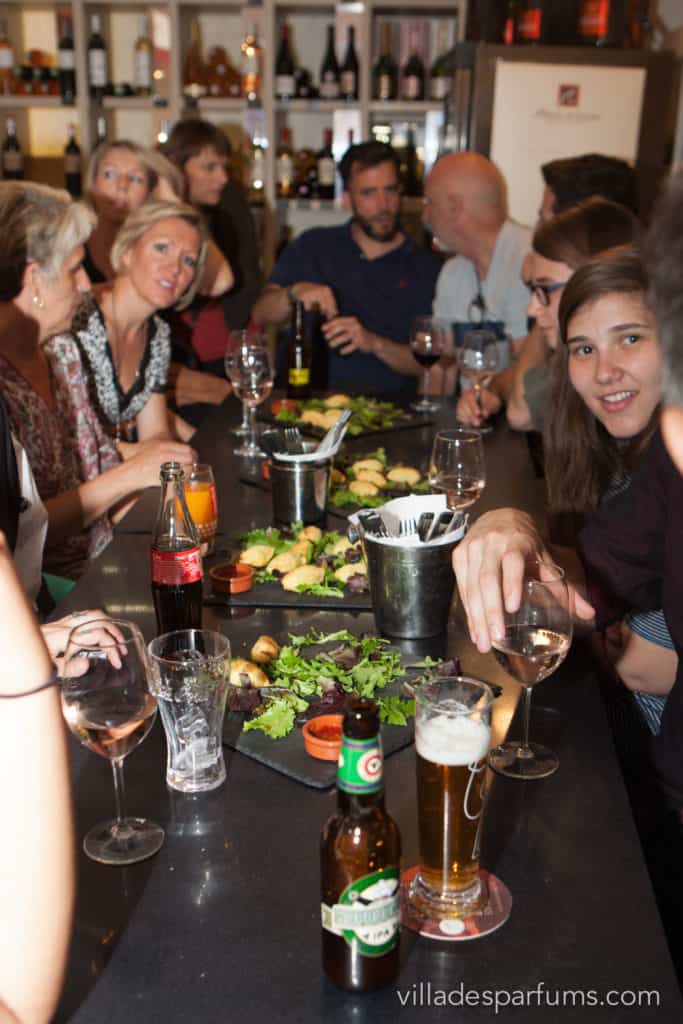 As well as wine tasting on offer, there's also an amazing selection of sharing plates served all day and evening including charcuterie, cheeses, salmons, alongside regional delicacies such as foie gras and locally farmed snails (which are surprisingly tasty!) making this little gem the kind of place that I love to nip into on the way home from work for a quick drink or spend an entire evening with friends.  The relaxed ambience allows you to feel equally comfortable in jeans and tennis shoes as you do in a dress and heels!
And the fantastic news? A visit to Au Comptoir doesn't need to end when you say au revoir! You can also buy any of the wines and beers, handpicked by Sylvain, to take away with you, including gift packages.  What could be better than bringing some delicious wine back to your home-from-home at Villa des Parfums to sip while you watch the sunset from our beautiful deck or by the poolside while the kids play?
Au Comptoir, 9 Rue Dominique Conte, Grasse.  Tel 04 93 36 90 25
Open Monday – Saturday 11am until late. Live music Wednesday nights.